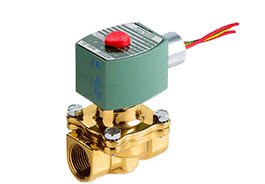 ASCO
ASCO is the world leader in solenoid valves controlling the critical flow of air, gas, water, oil, and steam spanning across numerous industries. ASCO offers a comprehensive line of solutions for a wide range of industry-focused applications with an intense focus on product development.

GC Valves
GC Valves manufactures world class solenoid valves to meet the rigors of today's most demanding applications. Most are available in brass or stainless steel construction. Variations are available to handle virtually any liquid or gas from vacuum to high flow/pressure.
Sharpe
Sharpe manufactures solenoids which are durable, versatile, cost-effective, perform well after many cycles and are perfect for extensive commercial and industrial use. Also suitable for a full range of water, gas, steam, petrochemical and general use/utility services and applications.