McDonnell & Miller
McDonnell & Miller is a leader in engineering and manufacturing boiler controls, liquid level controls, low-water cutoffs, and flow switches for steam and hot water boilers in industrial, commercial, and building trades applications.
TLV
TLV has grown to become a world authority in steam engineering products and services. TLV produces steam traps, condensate recovery pumps, pressure reducing valves and other steam-related equipment.
Flex-Pression
Flex-Pression, a Canadian company created in 1973, manufactures stainless steel flexible products, convoluted flexible hoses, metal hose assemblies, and expansion joints to meet all flexible piping applications.
SSI Strainers
SSI Strainers offers a diverse line of custom engineered and fabricated basket, temporary and Y-strainers. Each strainer is manufactured to the highest quality and is used in industrial, commercial, oil and gas, HVAC, waterworks, and power industries.
RW Holland
With over 28 years of experience working as one of the largest manufacturers of Hairpin Heat Exchanger lines in the US, R.W. Holland LLC. is an ASME Code certified manufacturer offering standard designs, as well as custom designs to meet clients' specifications.

Aquatrol
Aquatrol is an American based manufacturer of safety and relief valve products and have been experts in this field for over 70 years. Aquatrol's safety and relief valves are used in all industrial applications protecting and ensuring safety, and are also used world-wide.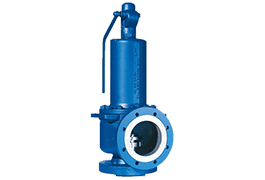 Leser
LESER is the largest global manufacturer of safety valves. LESER safety valves are used by leading companies in industries such as chemical, petrochemical, industrial gases, oil and gas production, and machine building, as well as the food and pharmaceutical industry.

Kunkle
Kunkle Valves is a leading manufacturer of safety and relief valve products for industrial and commercial applications. The breadth of the Kunkle Valve product offering is second to none in terms of industrial and commercial safety and relief valve products.