Elster
Elster is a leading global provider of gas, electricity and water meters. Their diverse portfolio of products and solutions are used to reliably measure gas, water and electricity consumption, and enable energy efficiency and conservation.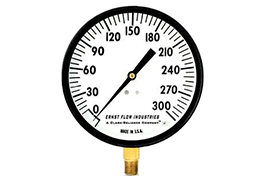 Ernst Flow Industry
Ernst Flow Ind. is the leader in liquid level measurement equipment. From pressure gauges and water flow meters to boiler gaskets and sight gauge glass, we have everything you need to maintain or upgrade equipment at your facility.
SWI
SWI manufactures process measurement and controls for specialty welded components and your industrial application needs. SWI meets the demand for OME sensors and end-use, transmitters, switches, and visual level indicators.
Oliver Valves
Established for over 35 years, Oliver Valves is one of the world's leading manufacturers of instrumentation valves. We offer a diverse range of instrumentation valves for the global Oil, Gas and Petrochemical industries. Oliver Valves also offer a range of instrumentation accessories for use with their valves.

Western Gauge Instrument (WGI)
Western Gauge & Instruments (WGI) offers a full line up of instrumentation products including pressure and temperature gauges. Our instrumentation product line is available in a variety of materials, sizes temperature limits and pressure ranges that will work well in any situation.
Thermo-Kinetics
Thermo-Kinetics Company Limited have evolved from a company that distributed instrumentation, into a company that has expanded in the measurement and control of a broad range of process variables.