Flowserve (Durco / Automax)
Flowserve's Durco V-Port control valves offer a full-line of precise modulating control services and are readily available in a variety of trim configurations. Complete your control package with Flowserve's comprehensive Automax automation system.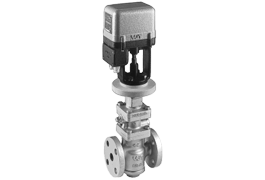 TLV
TLV's 3-in-1 new type of compact electro-pneumatic control valve (CV-COS) has an integrated cyclone separator and steam trap to improve steam quality. Similar to the CV-COS, the
CV-COSR is an electro-pneumatic control valve ideal for applications where dry steam is already being supplied through use of a seperator.
A-T Controls
Triac® V-Port control valves from A-T Controls are ideal for achieving more precise control with the simplicity and sealing features of a ball valve. V-port valves offer better and more consistent control than traditional round ported ball valves.
IMI PBM
PBM, Inc. manufactures control valve solutions for both sanitary and industrial applications. PBM combines specific application requirements with creative engineering and quality manufacturing practices to deliver the best control valve solution.

Fujikin
Founded in 1930 and recognized as a global leader in the manufacture of fluid and gas automatic flow control equipment, Fujikin's products are used throughout the semiconductor, aerospace, chemical and electric power generation industries.
Sharpe
Sharpe manufactures control valve solutions which are durable, versatile, cost-effective, perform well after many cycles. Perfect for commercial and industrial use, these products are suitable for water, gas, steam, petrochemical and general use/utility applications.
Forbes Marshall
Modulating Globe Valves are available in pneumatic and electric actuation with equal percentage characteristics for tighter control application such as temperature, pressure and flow control. These incorporate a modern design for servide, longevity and performance.
Habonim
Habonim control valves are designed to meet the highest industry requirements for precision, flexibility, cost-effectiveness and ease-of-use in the most difficult environments. These compact and durable control valves provide high Cv and a long life-span.